ISO 9001
ISO 9001 series of quality management and quality assurance of international standards, ISO (the International Organization for Standardization, referred to as ISO) passed in March 1987 after the adoption of quality standards. Countries around the world have adopted this standard, and referred to its set national standards, many companies and buyers in this quality assurance system as a contract between buyers and sellers of quality standards, in accordance with the requirements of ISO 9001 series of quality assurance work to do. At the same time after the publication of ISO 9001 series of standards, the advanced industrial countries have adopted, and gradually formed the world trend and trends.
World well-known product logos, such as British BS, American UL, Japan, the T flag, Australia AS etc., and the requirements of the factory quality assurance system have adopted their standard, which after several (1994, 2000, 2008) revision , the latest version of the 2008 edition.
business manage is a sustainable avenue, regardless of how you walk, you always had a more long-distant road to prepare early , view of this, ISO 9001 quality management system is a key-point to build for making your business faster and more stable.
While ISO 9001 International Standards popular around the world, from small domestic, three of the family factory, thousands of people as large listed companies have to import the same time, the new standard for enterprise brings many benefits:
 enhance product quality, improve customer satisfaction
 internationally recognized quality, favorable product export.
 build customer satisfaction survey system, understanding customer satisfaction with our
products and services, the extent to promptly improve missing, the occurrence defuse
potential customer complaints and improve customer satisfaction.
 on the quality management of the implementation of monitoring and measurement processes to improve process performance, improve business efficiency.
 an effective internal communication system to reduce the occurrence of miscommunication and misunderstandings, improve operational efficiency, internal customer satisfaction.
 establish effective PDCA (Plan, Do, Check and Action) management cycle system quickly and effectively respond to the challenges of the outside world.
PDCA cycle and represent the following meanings:
1. P (Plan): Determine the policy and objectives, determine the program of activities;
2. D (Do Executive): Field to do, to achieve the planned content;
3. C (Check): To summarize the results of the implementation plan, pay attention to results, identify problems;
4. A (Action): The summary results of the check processing, standardization of successful experience to be appropriate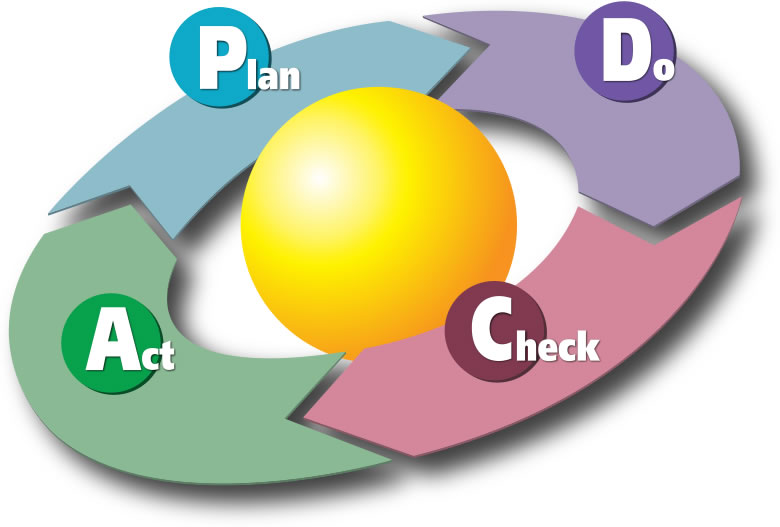 ISO 9001 certification can be registered include: administrative agencies, educational institutions, financial services, information technology, aviation, public transport, hotels and restaurants, retail, construction, machinery manufacturing, water, recycling, electronic optical equipment, iron and steel smelting, rubber and plastic products manufacturing, medicine and medical products, chemical products, paper manufacturing, wood products, leather manufacturing, printing products, crops, food and beverage processing of tobacco products ... etc.
We provide enterprise:
• Focus on business (Business assurance) related issues and not only meet the standards
• Focus on high-level managers and stakeholders with issues of concern
• Focus on the long-term future of the business, and not only for the results of the audit has been performed
ISO 9001 Counseling Guidance Plan: